Welcome to Luminous Skin & Laser Medical Spa!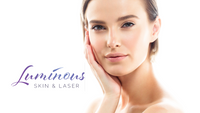 Welcome To Luminous Skin & Laser Medical Spa!
We have all your skin care needs covered - From head to toe!
Our mission at Luminous is to help you love the skin you're in. We offer the highest quality skin care products and services to help you achieve that healthy, luminous glow.
We specialize in providing outstanding results for our patients by using the latest medical grade laser technology available. Skin is our passion, which is why we also offer a comprehensive range of advanced aesthetic treatments to cater to all skin types and concerns.
CONTACT US
Our Services
At Luminous Skin & Laser we aim to be your exclusive full-service destination for a variety of medical spa treatments and much more.
Book a consultation
What Our Clients Are Saying
Trust Our Team
Luminous Skin and Laser Tampa is led by licensed Medical Aesthetician Michelle Pullen and Dr. Pullen, FL Board Certified Physician. Michelle and Dr. Pullen have a deep passion for aesthetics and a long-standing commitment to helping clients feel confident in their own skin.
Together, they have amassed a wealth of medical knowledge over their extensive career in the aesthetics industry, making them a powerhouse in their field. They oversee all their treatment plans to ensure you achieve all your skin goals in a safe, caring and supporting environment.
Michelle, our lead licensed Medical Aesthetician, FL Licensed Electrologist, and Laser Safety Officer has also had a variety of specialized training in laser devices and skin care treatments.

Our team gets even better here with the combined talents of Dr Pullen, Medical Director, who is an FL Board Certified Physician. Dr Pullen oversees all of your treatment plans.
— Dr Pullen
Location
Luminous Skin & Laser Tampa
8732 Fountain Ave, Tampa FL 33615
Hours:
Mon - Wed, 10am - 6pm
Thursday, 10am - 7pm
Friday, 10am - 5pm
Saturday, 10am - 3pm
Sunday, Closed
Top-Notch Skincare Treatments
Beautiful skin is in!!!! Our Team offers personalized solutions that will help each client achieve the perfect balance. When we have healthy beautiful skin, we can take on the world with confidence.